The Periscope Small Group Journey provides adult believers the opportunity to see above the daily world around them by looking through God's periscope into an eternal perspective. Looking from an eternal perspective provides a diagnosis of cultural captivity and the biblical truth to displace and replace it. The group will look together through video-driven, discussion-based content that's laser-targeted on today's spiritual blindspots helping them to live beyond the mundane experiencing Gods' presence.
Realizing–afresh or for the first time–these principles, the group will understand more completely: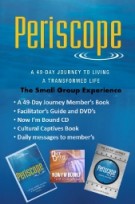 • Our purpose is eternal, not temporal
• Satan is real, he is a liar and he's after us
• Views can be false, and Satan and the culture feed them to us at every turn–what are the lies?
• The false ideas of the world and our sinful desires negate living for God–and others notice
• A God's-eye view helps us avoid being taken captive by culture's lies
• By feeding on God's truth and applying it, we can live transformed lives
• Called to a higher purpose: living in community, proclaiming truth in every arena
• Purchase a Periscope Small Group 49-Day Journey to Living a Transformed Life (click here)
High quality videos anchor the small group material and foster discussion in your small group. Check out The Elephant below for an example.
The Elephant
Q & A
Does the Periscope Small Group Experience require any kind of expertise or special training?
No. It was designed to plug 'n play.
The Periscope Facilitator's Guide takes the leader through video transitions and provides discussion questions to supplement what's on the video. Any adult can do it!
How is this small group series any different from 10,000 others?
Great question! It answers real needs that real people have today. It closes gaps in the understanding of the Scripture that young adults struggle with. The basis of this series is as up-to-date and informed as anything available.
Based on years of studying the major recent surveys on religious knowledge, attitudes and lifestyles—including Probe's own survey of born-again young adults—Periscope materials hone in on precisely what we found. What did we find? That the vast majority of young adults 18 and older do not possess even a basic biblical worldview coupled with a Scriptural lifestyle and attitudes. This finding is true even in many well-taught churches and groups.
Are the videos the only thing in The Small Group Experience?
They anchor the small group sessions, but are fortified by the daily experience of:
• reading 49 daily chapters (almost like content-rich devotionals) of Periscope: A 49-Day Journey to Living a Transformed Life, by Kerby Anderson
• reading daily emails that highlight major daily themes OR listening to daily voicemails highlighting the day's lesson
• listening to the Now I'm Bound music CD by Dove Award winning songwriter Jennie Lee Riddle.
Order the Periscope Small Group Experience