What now? Given that we have seen the threat can we teach believers to live beyond the present as citizens of eternity? How can spiritual leaders address this critical need?
• Challenge the tendency to copycat cultural thinking and behavior—specifically
• Fill the gaps of misunderstanding with absolute biblical truth—applied to real life
• Spark an eternal perspective for the Christian life that's not all about "me."
How? Some great options:
• Have your church take the Up Periscope Church Assessment: Find out precisely how cultural or spiritual your church is (for pastors and church leaders). Get analysis of weak and blind spots.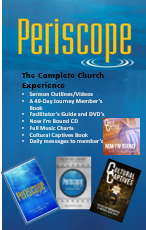 • Experience a  Periscope Complete Church 49-Day Journey: Journey together as a church body to release all adults (and youth) in your congregation from captivity, pinpoint unbiblical thinking and behavior like laser-guided cancer treatment. Then build confidence in them as well-taught ambassadors for Christ. The power of the complete package is unmatched. If offers: a stamp of approval from the pulpit, a shared experience, and the sense of going somewhere together.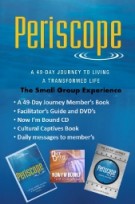 • Lead a Periscope Small Group 49-Day Journey to Living a Transformed Life: Like the full church experience, take your members through a journey of discovery into what God says about eternity, good and bad ideas, healthy and unhealthy living and Christ's kingdom priority. You'll focus on the core of the Periscope series: video-based, discussion-driven small group materials. No special training required.
|
|
>High quality videos anchor the small group material and foster discussion in your small group. Check out the example below:
The Elephant
"The Periscope Full Church Experience raised our congregation's awareness that the culture is influencing our lives—the decisions we make, the way we live our lives…. It also helped me as a pastor to see that our people lack a biblical worldview that governs their entire lives. That will help us address, challenge and equip them to live out the Christian life. It also showed me that there's a huge gap in terms of a biblical worldview between younger and older generations." Pastor David denHartog, Cleburne Bible Church, Cleburne, Texas