Journey together as a local body to release adults (and youth) in your congregation from captivity. Pinpoint unbiblical thinking and behavior like laser-guided cancer treatment. Then build confidence in them as well-taught ambassadors for Christ.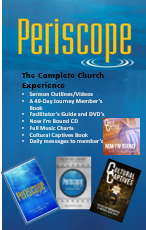 The Periscope Full Church Experience lifts your entire congregation into a shared journey of discovery and rediscovery: of eternal perspective, biblical thinking and living, and Kingdom-centered lives. It is the most effective way to maximize the conviction and learning and applying of truths so sorely missing in most young adult believers and older believers who need another chance at passing on the baton of faith.
• Purchase a Periscope Complete Church 49-Day Journey (click here)
A pastor's report:
"The Periscope Full Church Experience raised our congregation's awareness that the culture is influencing our lives—the decisions we make, the way we live our lives…. It also helped me as a pastor to see that our people lack a biblical worldview that governs their entire lives. That will help us address, challenge and equip them to live out the Christian life. It also showed me that there's a huge gap in terms of a biblical worldview between younger and older generations." Pastor David denHartog, Cleburne Bible Church, Cleburne, Texas
Q&A
Is Periscope just another small group study?
No. It contains an important small group component but is much more.
Why do you call it a 49-Day Experience? 
Periscope takes people in your church through 7 themed weeks of:
• sermons and music in church service,
• video-based discovery and discussion in small groups or classes, and
• daily reinforcement through an accessible book and through their inbox or voicemail.
Why is doing the Full Church Experience better than just parts of Periscope?
The power of the complete package is proven. It means your church gets:
• a stamp of approval from the pulpit they'll trust
• a shared experience that boosts learning and strengthens fellowship
• the sense of going somewhere together–fruitfulness!
How can I know Periscope is right for my congregation?
• Vet it for you church:
• watch this sample sermon video
• watch this sample small group teaching video
• read this sample sermon outline
• read this sample daily email
• check out the Periscope book table of contents
• contact us to ask more about it